Recommended Saddle Fitters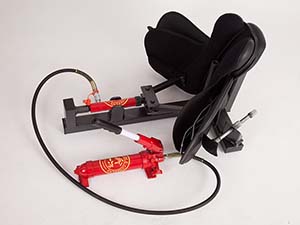 Saddle Company Saddles can be purchased through Saddle Company Approved Fitters. We do not sell saddles direct from our website, however, if you contact us, we can put you in touch with one of our fitters who is local to you.
We are always happy to answer any questions or queries you may have about our products.
Whether you wish to buy a new or second hand saddle, or want your horse templated for a made to fit saddle, we recommend that you always deal with a Saddle Company trained and approved fitter.
In order to fit your saddle, the fitter will visit you and template your horse. This will involve taking notes on a special fitting sheet, taking measurements of your horses back and helping you to choose the correct saddle type, including the various options and any specific bespoke requirements that you may have. One copy of this sheet will be kept by the fitter in your file for reference, the other is forwarded to The Saddle Company and used as a template to produce your saddle.
Your saddle will then be delivered to your fitter who will ensure that it fits your horse and make any necessary adjustments. You will also receive a guarantee, which you should fill in and return to us as a record of your purhcase.
We have fitters based all over the UK. All of whom have trained with us at the Saddle Company premises under the supervision of David Johnson.
The course covers the specific requirements of fitting, adjusting and ongoing maintenance of our saddles. Saddles can either be adjusted on site, via our hydraulic machine, or they can be returned to our workshops. Flocking can also be regulated and adjusted on site by most fitters.
To find a Saddle Company approved fitter in your area, please contact us and we will give you two or more contacts in your area for you to get in touch with.