Choosing a saddle can be a minefield. There are so many to choose from, how do you know which one would be most suitable?
Your saddle fitter should be able to advise you, but it may come down to personal preference. This is our handy guide to help you find the best saddle for you and your horse.
When choosing your saddle, there are a few key points to bear in mind;
What kind of activity do you mostly take part in?
Do you have any colour preferences?
Does your horse have any anatomical characteristics to take into account?
What kind of saddles are most comfortable for you to ride in?

If you specialise in a particular discipline, the choice may not be so hard. For showing, dressage and jumping, there are specialised saddles designed to help you and your horse with that particular task.
The General Purpose saddle is the most popular saddle for general riding. It is very versatile, and is designed for people wanting to do a little bit of everything.
If you want to show off your horses shoulder, you may wish to pick a more straight cut saddle, such as a working hunter saddle or a VSD. These saddles have flaps that are more forward than a dressage saddle but slightly straight than a GP.
Below is a graphic demonstrating the flap cut of the different saddle types.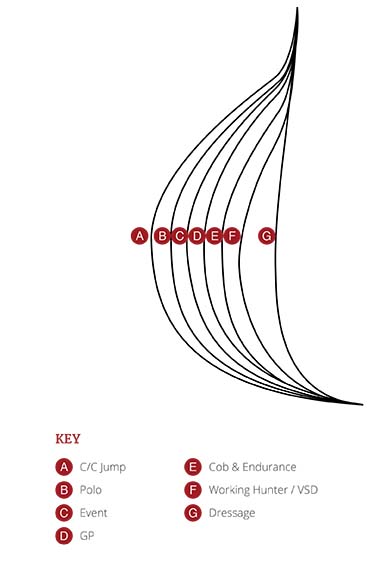 If you are a riding a pony as an adult, it may be worth considering a pony sized saddle with an adult build. The 16 1/2 " GP comes in both pony and adult sizes, but is the same size on the ponies back. It does however give the rider more room!
We have a cob saddle to suit cob types, which feature point and balance straps as standard to help keep the saddle securely in place. We also make high withered saddles, for those with prominent withers.
All of our saddles come with a soft foam seat. Comfort for rider is also important, so choose a saddle which will be comfy to ride in. If you are uncomfortable this can translate through to the horse. We want you both to enjoy yourselves!
Finally, you can choose your colour, based on your horses colouration and what suits him. Your saddle and bridle should be matching colours.
If you want something a bit different, you can add a splash of colour by choosing from a selection of colourful trims to set your saddle off.